Social Anxiety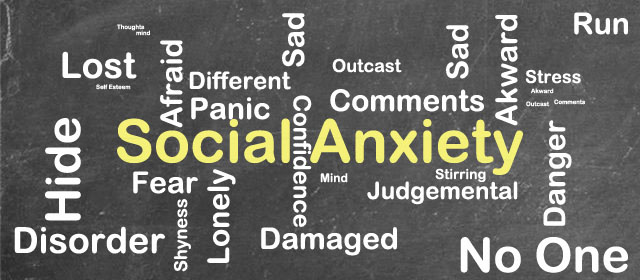 Share this information with a friend &nbsp
Please don't judge me!
This was the biggest obstacle in my life to having what I'd consider a "normal" life. Social Anxiety leaves you hating yourself, feeling alone, different, useless. A part of me wanted to go out and enjoy myself with other people but the condition would mostly win. Going outside with others was a constant battle, I thought they were all judging me. I thought they were wondering why I was even there, I had no right to be there. I thought they could read my mind. They knew I was a fraud. A tiny part of me knew my thinking was wrong. That it was irrational but the condition was over whelming and kept me from living the life I wanted.
You Are Not Alone
When I first learnt there were others that thought like and me and I heard the term "Social Anxiety" it was a big relief. Up until that point I thought I was unique, I thought I was the only one who thought the way I did. I thought it was just me being a bit different, that if only I tried a little harder I'd be able to relax and enjoy myself. Hearing there was a name for it and that I wasn't alone was a weight off my shoulders.

I read, studied and tried various techniques to help manage my condition, including one to one counselling. Some were quite successful and allowed me to manage the panic that I'd experience but the condition was always there.
Could That Really Work?
When I found Eye Patching of course I thought "No way, that's too simple" but what did I have to lose. It really was within a matter of days for me that it made a difference. The most significant part for me was it continued to work and continued to get better. My condition was actually fading away. This wasn't a coping technique that I had to do when things got really bad. It was actually taking the condition away from me.

At first I found myself in social situations worrying in case my old thinking would come back. After a while I began to forget about it and started to relax and actually enjoy myself. Today when I'm in social situations I may not be the centre of attention, life and soul of the party but at least I'm at the party and enjoying it, my way. I can go on outings with my family now without worrying if I'm going to spoil it for them.

I really can't emphasize enough how much this has worked for me. To get started with your own patch plan, the exact same patch plan that I used, then press the Buy Now button and start your own journey to your new life.
All orders placed before 4:00pm will be shipped out the same day. We're now taking orders for shipping tomorrow.
Buy Now!
Customer Testimonials