Your E. P. Therapy Patch Plan
---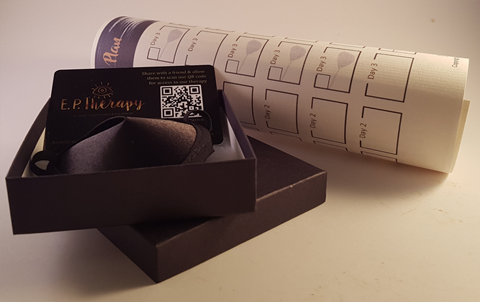 Your Patch Plan Kit includes everything you need to get started. You'll recevie a high quality flexible sized eye patch
presented in a beautiful gift box, made from recycled materials, with the authentic E. P. logo in gold along with an inspirational card and of course your high quality 6 week plan with step by step instructions on how I personally used the Patch Plan to overcome my own battles.
Buy With Confidence:
I've researched and tested many patches before I found one that was comfortable, long lasting, washable with a flexible size and great quality. There are so many patches out there that are really badly manufactured and probably shouldn't be placed anywhere near your eyes. Some of these came from well-known high street names and a lot from various auction sites. In my efforts to find the perfect patch for me I ended up buying around 20 different varieties. Some give me a rash where the glue or some other chemical on the patch had reacted with my skin. Some were scratchy where the edges were just so unsmooth. Some were made of cardboard and covered in fabric which makes them un-washable. Others pressed against my eye which stopped me opening it. Keeping your patched eye open during the therapy is vital. Eventually I found a perfect patch suitable for adults and kids which was just right for my patch plan and its that very patch you'll be getting.
We've made it easy for you to purchase for a friend as well. Simply Click the "Add another address" button and we can ship out up to 10 different addresses in one order.
Price: £19.99, Delivery Free Of Charge
Want it tomorrow? Order within
12 hrs 36 mins
Place your order right now to start your amazing journey tomorrow
---
Buy Now!
---